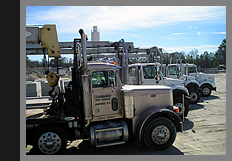 We believe that the job is not complete until our client is happy, so we view service as one of our greatest strengths.

Manufacturing a top quality precast concrete product is only the first part of the job, having the capability to deliver it to your site completes it.

With 5 boom trucks, a 30-ton crane truck and a large flat bed we can deliver any of our products to your job site and set it with ease.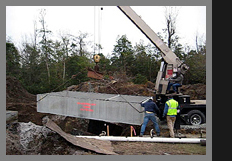 Whether you need a 1000 gallon septic tank or a 20,000 gallon cistern, our experienced drivers will assure proper transportation and handling of all our precast concrete products.

There are many things on a project that takes too much of your attention, the precast shouldn't be one of them.

From the initial site work to laying the last parking bumper, we are here to make it easy for you.